CINSF Conservative Fund (Default Fund)
Investment Policy and Objective
Produce rates of return over time in excess of inflation by investing a small percentage of the assets in growth assets while keeping the probability of a negative return at low levels.
Achieve investment returns after expected added value from the underlying investment fund net of fund manager fees that exceed the New Zealand Consumer Price Index (CPI), measured over rolling 3-year periods by 3.8%pa.
Investment Strategy
The CINSF Conservative Fund invests in a mix of investment funds offered by Russell Investment Management Limited and their Related Parties. The asset classes, benchmarks and ranges are as follows:
Investment Ranges
| | |
| --- | --- |
| Asset Class | Range |
| NZ Equities | 8.5% – 11.5% |
| International Equities | 16.5% – 23.5% |
| Growth Assets | 25% – 35% |
| NZ Cash | 0% – 5% |
| NZ Fixed Interest | 13% – 15% |
| Overseas Fixed Interest | 52% – 60% |
| Income Assets | 65% – 75% |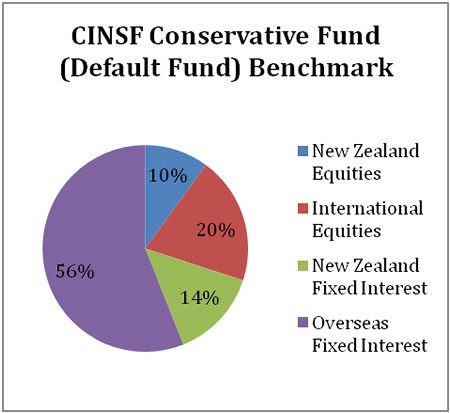 Outperformance
Outperformance will be sought where appropriate (i.e. where management is active as opposed to passive) relative to the notional return on a benchmark portfolio designed to reflect the risk profile according to which the assets are invested at the time.
The outperformance objective is Total Fund Return (i.e. the total CINSF Investment Fund return net of investment manager fees) to exceed the Benchmark Return by 0.3% p.a. over rolling 3-year periods.
The Benchmark Return is the return that would have been achieved had the CINSF Investment Fund been invested at its benchmark asset allocation and earned the Index returns of each asset class.
Level of risk
Low
Risk of negative returns
6 years in 100